If you are interested in having an evaluation session immediately,
please use the form below or call 212-268-8900.
Biofeedback for Migraines
• For doctors & patients who wish to avoid medication (e.g., women of child-bearing age, children, non-responders, requests for alternatives, refractory cases, drug interactions).
• 85% likelihood of substantial relief in 8 sessions (and the feedback is watching any movie you want!)
• Insurance may cover much of the cost (we can work with insurance companies for payment)
• We train patients in controlling their own physiology & relaxation, useful for other medical conditions (e.g., anxiety, cardiovascular disease, diabetes, hypertension, and other disorders)
Imagine Migraines becoming part of your past, and learning ways of controlling your physiology for good health — skills for a lifetime.
Dr. Thomas has held Faculty positions at several institutions (NYU Medical Center, Fordham, John Jay, Albert Einstein College of Medicine) for over 30 years; he has 7 books to his credit; has been President of the Neuropsychology and Independent Practice Divisions of NYSPA; and was recognized as a Distinguished Practitioner in the National Academies of Practice, among other awards.
______________________________________________________________
The evaluation session is $250 and is 80 minutes long. In this session you will learn 3 biofeedback techniques, two of which you can use for the rest of your life on your own. Pay Dr. Thomas directly with a check or cash. We will give you a receipt for insurance reimbursement. Please also note the following.
1. We usually do not accept insurance assignment. Treatment sessions are $225, payable at the beginning of the session.
2. I request a 10 session commitment in order to give the biofeedback treatment a good chance of working. There is an 85% chance that in this amount of time the treatment will show result in improvement of your symptoms. The sessions should be once per week and be as consistent as possible.
3. If it is absolutely necessary to accept insurance assignment, we can discuss in the first session. There are some limitations in this kind of arrangement, such as the session times limited to Monday and Wednesday 2-5pm. More details of the kind of arrangement can be discussed at the first session, which is $250 as noted above.
The Brain Clinic is one the few clinics in New York City that offers biofeedback for Migraines.
Please call to make an appointment today! 212-268-8900.
References:
Blanchard, E., Andrasik, F., Ahles, T., Teders, S., & O'Keefe, D. (1980). Migraine and tension-type headache: A meta-analytic review. Behavior Therapy, 11, 613-631.
Goslin, R., Gray, R., McCrory, D., Eberlin, K., Tulsky, J., & Hasselblad, V. (1999).Behavioral and physical treatments for migraine headache. (Technical Review 2.2). Prepared for the Agency for Health care Policy and Research under contract No. 290-94-2025. (NTIS Accession No. 127946)
Jacobson, R. (1995). The postconcussional syndrome: physiogenesis, psychogenesis, and malingering: An integrative model. Journal of psychosomatic research, 39, 675-693.
Penzien, D., Rains, J., & Andrasik, F. (2002). Behavioral management of recurrent headache: Three decades of experience and empiricism. Applied Psychophysiology and Biofeedback, 27 (2), 163-181.
Siniatchkin, M., Hierundar, A., Kropp, P., Khunert, R., Gerber, W., & Staphani, U. (2000). Self-regulation of slow cortical potentials in children with migraine: An exploratory study. Applied psychophysiology and biofeedback, 25, 13-32, in press. Epub ahead of print retrieved March 14, 2010 from http://www.springerlink.com/content/787123414m832271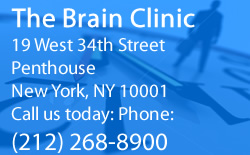 WordPress contact form by 123ContactForm